2nd annual Women's Outdoor Culture Camp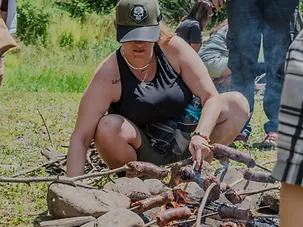 The Women's Outdoor Culture Camp (WOCC) is an international program designed to create inclusion for women and girls by creating a welcoming environment for women to learn introductory outdoor skills. Creating opportunities for building leaders by boosting confidence and outdoor skills. Diversity in the outdoors is lacking and programs such as these can help underrepresented youth and women overcome barriers.
A variety of workshops based on survival in the outdoors are offered for all skill levels. Some workshops are geared towards beginners who have never tried these activities, while others suit experienced individuals who are looking for a weekend outdoors with like-minded women. Furthermore, the price for camp participants is subsidized by our non-profit to promote inclusion and ensure cost is not prohibitive.
WOCC is a fantastic opportunity to understand and maintain cultural traditions without the influence of outside sources.
Combining all of our stem based Green School environmental education and Ease of Access projects in one place.
If you have any questions or concerns, please feel free to reach out to us! 
Our camp will always be limited to 100 women so if you are looking for an outdoor experience be sure to get signed up to ensure your spot.