Beatlegacy – "Beatlemania and Beyond/The Ultimate Experience"
February 9, 2024 at 7:00 pm
$30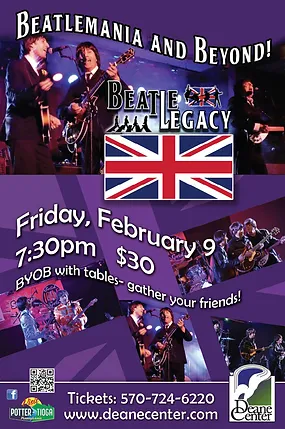 Come together at the Deane Center in Wellsboro, PA for Beatlegacy – Beatlemania and Beyond/The Ultimate Experience!
Get back to where you once belonged and sing and dance to this high energy family friendly Beatles tribute show that is a 'splendid time guaranteed for all'!
These four accomplished musicians re-create the excitement of a Beatles concert, with special costuming and instruments that cover the music of the Beatles from the Cavern Club, to Beatlemania, Psychedelia, Abbey Road, and beyond!