EXPLORE BARBOUR ROCK TRAIL
June 15 at 4:00 pm

-

6:00 pm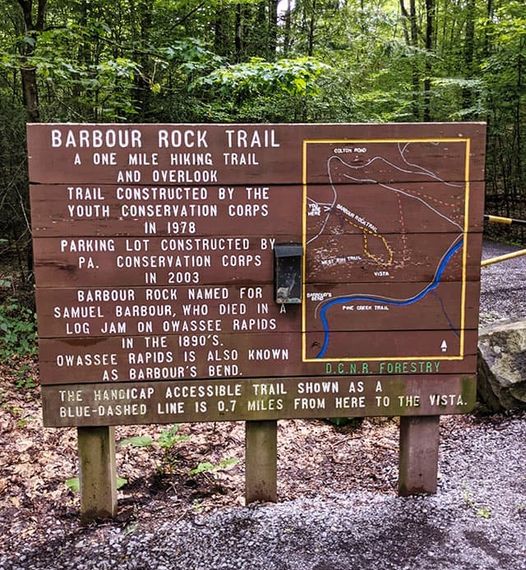 Thursday, June 15, everyone is invited to go on an excursion from 4 p.m. to 6 p.m. along Barbour Rock Trail to learn about botany and especially wildflowers of the Tioga State Forest, and to see the Barbour Rock vista that overlooks the Pine Creek Gorge. This outing is free and open to the public.
Meet at the Barbour Rock Trail parking area at 4 p.m.
To get there, take U.S. Route 6 from either Galeton or Wellsboro. At the Burnin Barrel/Ansonia Valley Inn at 5440 Route 6, turn off onto Colton Road and drive to the Barbour Rock Trail parking area, which is not far from Colton Point State Park.
The Barbour Rock Trail is a wide, flat, packed gravel path accessible for people walking or using a wheelchair. It is located on the western rim of the Pennsylvania Grand Canyon in the Tioga State Forest and offers one, if not the best and most easily accessible spots from which to view the canyon.
Participants will make their way from the parking area down Barbour Rock Trail to the vista and return to the parking area by 6 p.m. The total distance is 1.3 miles to the vista and back.
DCNR and Hometown Science, a local organization, are sponsoring this adventure.
Leading the program are Chris Firestone, a botanist with the Pennsylvania Department of Conservation and Natural Resources Bureau of Forestry office in Wellsboro, and Susan Schenck, environmental education specialist with DCNR's Hills Creek State Park Complex, which includes nine state parks in Tioga and Potter counties.
Firestone has been studying plants in wild and natural areas for many years.
Once on the trail, participants will learn about local wildflowers, trees and plants of the Tioga State Forest, including Mountain Laurel (Kalmia latifolia), the Commonwealth's state flower.
"We are striving to make this an inclusive event accessible to all, including individuals with impaired or limited mobility," said Schenck. Those who would like more information, can contact her at Lyman Run State Park at sschenck@pa.gov or by calling 814-435-3580 any time prior to the June 15 event. Individuals needing an ASL interpreter are asked to contact her by this Thursday, June 8.