Hoofprints for HAVEN 2023
August 26 at 8:00 am
$50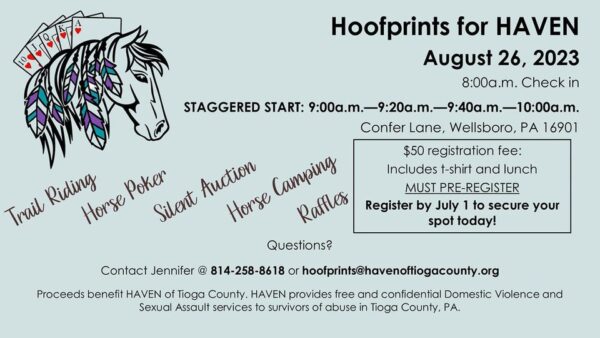 THIS IS A BRING-YOUR-OWN-HORSE-EVENT.
Registration at 8:00a.m. with staggered departure beginning at 9:00a.m. (9, 9:20, 9:40, 10). Lunch, silent auction and raffles to follow.
Capped at 60 riders, 4 groups of 15 riders will navigate the designated trail route through the mountainous scenery of the Tioga State Forest.
Groups will be staggered in 20 minute increments, each group led by a designated trail boss. Trail starts and ends at Ole Covered Wagon Tours and is anticipated to take 3-4 hours. At check-in, each participant will be given the opportunity to play "horse poker" and riders will be given 5 brief rest stops to draw cards. Horse poker winnings will be 50/50.
Horse camping facilities are available onsite – yet must be booked directly through CAMP @ OCWT.
$50 registration fee, includes t-shirt and lunch.
NOTE: No stallions, no alcohol on the trail and no unaccompanied minors. All youth (18 & under) participants must wear a helmet. Participants are required to sign a waiver/hold harmless agreement. HFH will proceed rain or shine.