Hyner Mountain Snowmobile Safety Class
November 4 at 7:30 am

-

4:00 pm

FREE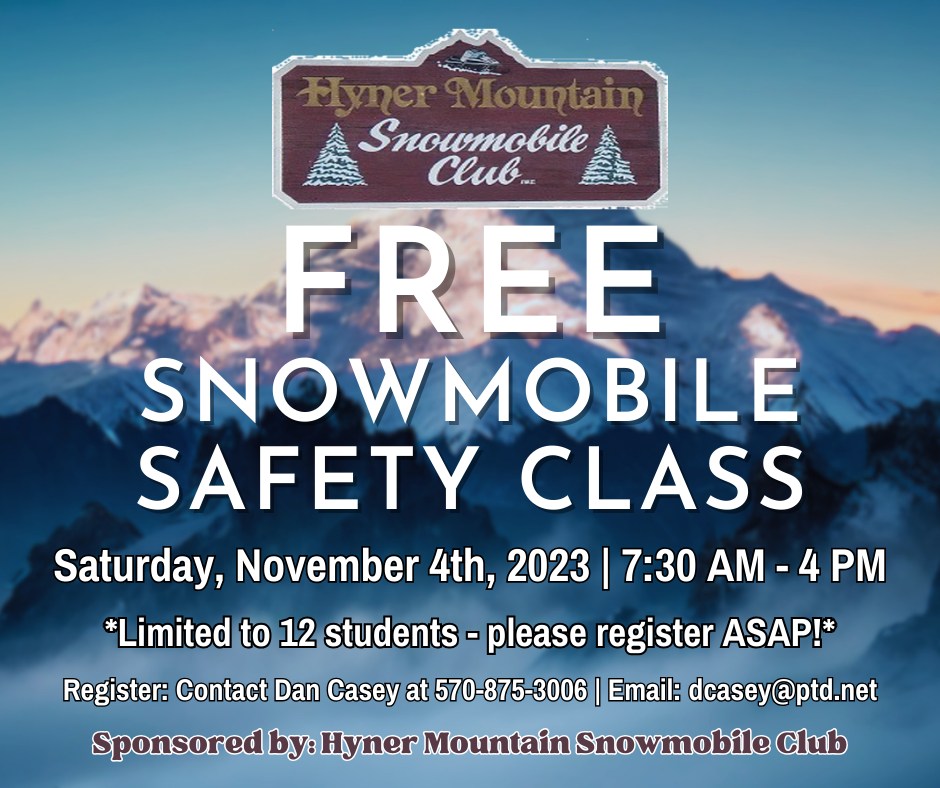 Is your child (or yourself!) interested in learning how to properly handle a snowmobile – without spending hundreds of $$$ ? Then you have to check out Hyner Mountain Snowmobile Club's FREEEEEEE Snowmobile Safety Class!!!
 Date: SATURDAY, NOVEMBER 4TH

 Where: 112 Reeders Addition Lane (100 ft. North of, and across the road from, Pat Reeders Tavern on Route 44 North)

 Time: 7:30 AM to 4 PM

 Class size: Limited to 12 students – please register ASAP!
**LUNCH WILL BE PROVIDED AT NO CHARGE!!**
 Interested? Contact DAN CASEY at 570-875-3006 or email Dan at dcasey@ptd.net 
Important DCNR-Provided Information for Snowmobile Families:
•"It is mandatory that all youth, ages 10-15, take an approved snowmobile training course if they are planning to use a snowmobile off their parents' or guardians' property."
•This DCNR-administered safety course, provided at no charge, will meet the DCNR requirements for youth snowmobiles. Youth snowmobilers successfully completing this eight (8)-hour course will receive their Snowmobile Safety Certificate the same day. ADULTS ARE ALSO WELCOME TO PARTICIPATE!