July 4th Celebration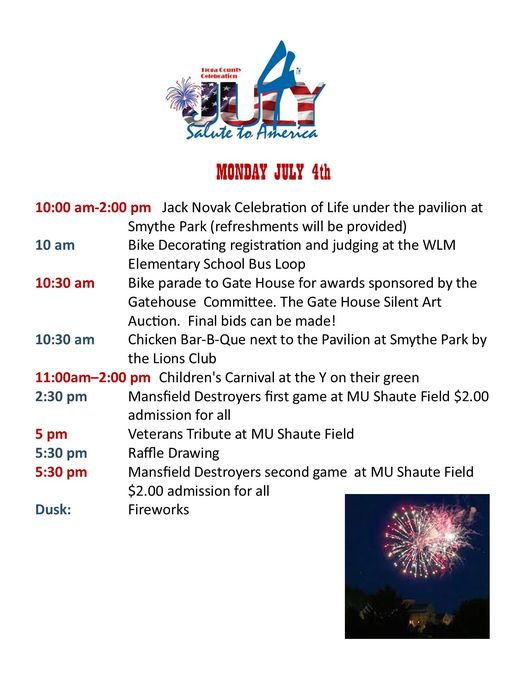 A free fun filled day for families and individuals that honors our independence and concludes with an exciting display of fireworks. The day is consisting of an array of activities including entertainment and a beer & wine garden.
Here is the official 4th of July Celebration times and locations…
10:00 Bike Decorating Contest for all kids through
rising 7th graders at W.L. Miller bus loop.
11:30 Chicken BBQ at Smythe Park – Lions Club
12:00 Art Auction, Stone Wall Demonstration and
History of Gate House at Gate House
12:00-4:00 Free Swim at Mansfield Pool
2:00-4:00 Kids Carnival at the YMCA Green
2:00-7:00 Beer & Wine Garden on Hoard St., Food
and various Vendors adjacent in First Citizens
Community Bank Parking lot.
5:00 Parade
6:00 – 9:00 FREE Shuttle service to and from FCCB
parking lot near Hoard St. & Straughn
Auditorium at MU (Doors open at 6 for concert)
6:45 Veteran's Salute – Straughn Auditorium MU
7:00 Raffle ticket drawing
FREE
John Berry Concert
at Straughn
Auditorium, MU. Sponsored by KC101
Dusk Fireworks
Fourth of July Celebration
in Mansfield
Always on the 4th
For more information or if interested in participating in the
parade or as a vendor go to: