Little Hickory Concert Series presents Verlon Thompson and friends
October 28 at 6:00 pm

-

10:00 pm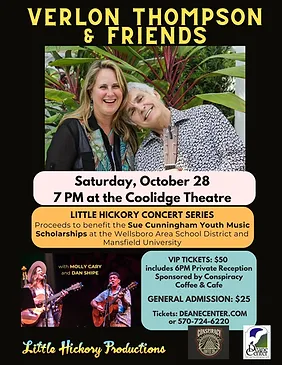 Little Hickory Productions is partnering with the Deane Center on a series of benefit concerts to bring the best of American Roots Music to Wellsboro, Pennsylvania.
These concerts will directly benefit the music scholarships established in Sue's name at the Rock L. Butler Middle School, Wellsboro Area High School, and Mansfield University.
We are excited that Verlon Thompson is joining us again at the Deane Center on Saturday, October 28th to benefit the Sue Cunningham Music Scholarships! Verlon, a multi-Grammy nominee, is coming up from Nashville to help us honor Sue, his close friend and musical partner.
Molly Cary and Dan Shipe will open for Verlon to make this evening even more unique. Dan and Sue played together for many years in The Hickory Project and The Sue Cunningham Band and were the best of friends. Dan and Molly have been thrilling audiences with their beautiful harmonies, and we are so happy to have them participate in this magical event.
VIP Tickets are $50 and include a private reception sponsored by Conspiracy Coffee Co. and Bakery starting at 6 p.m. with an intimate performance and a meet and greet with Verlon before his show! Each VIP ticket will include a signed 8×10 photo of Verlon and a CD of Verlon and Sue.
General Admission tickets are $25 and will be available through the Deane Center for the Performing Arts. The music starts at 7:00 p.m. with Molly and Dan, and Verlon will take the stage at 8:00 p.m.
Doors to the lobby open at 6:00, with music students from Mansfield University performing in the lobby before the show.