Pennsylvania Sled Dog Club Summer Campout
July 21 at 5:30 pm

-

July 23 at 9:30 am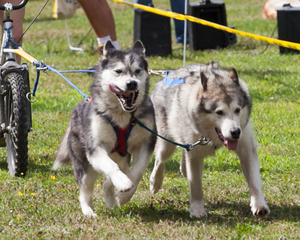 The Pennsylvania Sled Dog Club will hold its Summer Campout July 21-23 at the Twin Streams Campground at 2143 Route 287, Morris.
Call 570-353-7251 for reservations or visit www.twinstreamscampground.com for information.
The event schedule for Saturday, July 22, is listed below.
10 a.m.-noon — Drag Race & Lead Dog Competition on lawn near the camp store. Using bikes, scooters, gigs or runners (canicross), sled dogs of various breeds will pull or drag the items to the finish line. Dog trucks can be parked near the store. The Lead Dog Competition, invented by Natalie Norris, will be immediately after the drag race. This is a timed contest, where the driver guides a single leader around a three-barrel course by voice commands only.
Noon-1 p.m. — Lunch (on your own)
21-2 p.m. — Paint your Pet Activity. Send a high-resolution color photo of your pet to armstrongmelissa369@gmail.com before the event. It will be printed and brought to the camp out formatted and pre-drawn. Art supplies will be provided.
2 p.m. — Guest speaker will talk about what to do and not to do if your pet goes missing. Registration is required. There is a fee; children under 12 are free.
For more information, contact event organizers Melissa Armstrong at armstrongmelissa369@gmail.com or LuWanna Krause at 302-545- 9692.
For more information and complete schedule, visit https://www.pasleddogclub.com/races-events-source/2021/7/30/psdc-summer-campout-2021-2djzm-j4ws3