Suzan Richar to Create Christmas Ornaments during Free Golden Afternoons Program
November 14 at 1:00 pm
FREE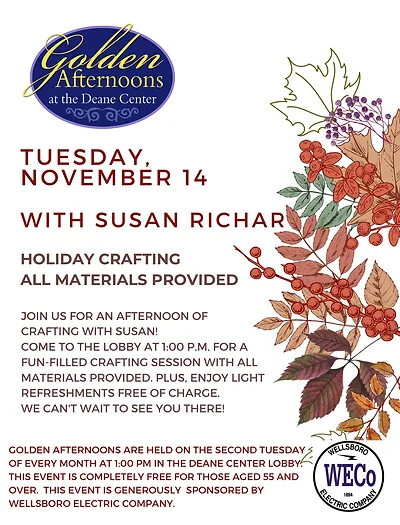 During the Golden Afternoons program at 1 p.m. on Tuesday, Nov. 14, Suzan Richar of Wellsboro will show people attending how to do two different Christmas craft projects to take home. All materials will be provided free.
This free program is open to anyone 55 years of age or older. It will be in the lobby at the Deane Center for the Performing Arts at 104 Main Street in Wellsboro. There will be free refreshments.
Attendees are asked to bring shears to cut material and glue guns with them from home. "We will have some available but if the number of participants is as impressive as it has been in the past, we will need more tools," Richar said.
For the first project, Richar, assisted by her best friend Linda Galeone, will show participants how to make denim angels for a "Blue Christmas."
"If we have enough time, we will also show them how to make a small Christmas tree ornament. Participants will have more choices in individualizing their trees," said Richar.
Suzan and Linda have helped Golden Afternoons attendees make folded butterflies from paper, Iris folding note cards, popsicle stick mangers, Christmas ornaments from wrapping paper and glittery putz houses from cardboard.
For more information about this Golden Afternoons program call the Deane Center at 570-724-6220.