TANNERIES OF TIOGA COUNTY PRESENTATION AT THE GMEINER
October 19 at 2:00 pm
FREE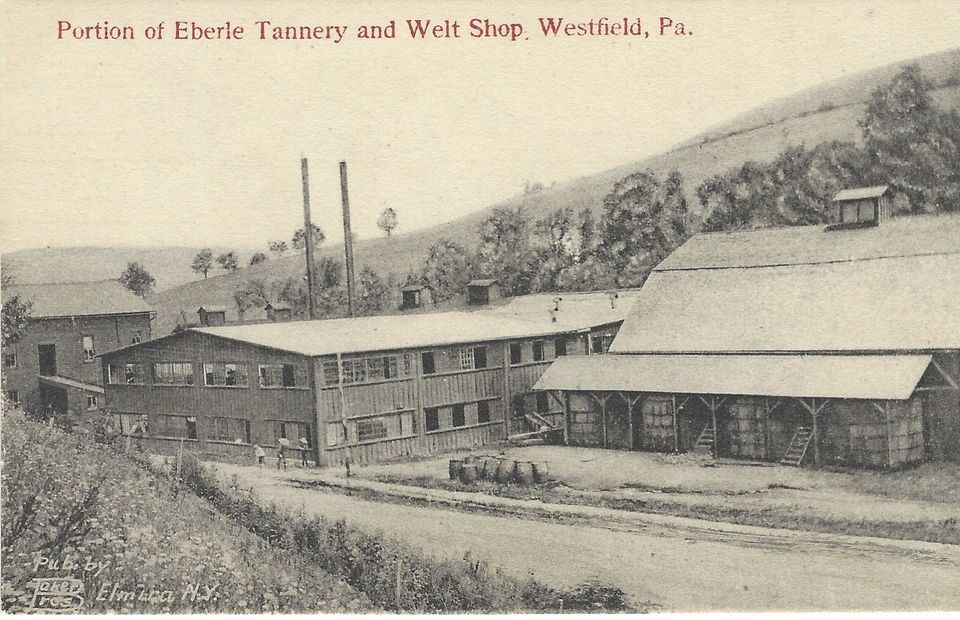 The Gmeiner Art & Cultural Center is pleased to announce a presentation on the history of tanneries in Tioga County by local historian Betsy Hale.  Tanneries were places where leather was made from animal hides. This presentation will be held twice to allow people with differing schedules to attend. The first presentation will be on Thursday, October 19th at 2PM and the second will be on Tuesday, October 24th at 6PM. Admission is free and open to the public.
Tanneries existed in Tioga County since the early 1800s, soon after the county was formed, until the last one closed in 2004 — almost 200 years of their existence here in the county.  At one time there were nineteen different ones in operation.  Many were very small but others claimed to be the biggest in the world.  This presentation will give an accounting of their existence.  Many of the records are long lost but, through research, this presentation will give a history about the leather industry in the county and the demise of its existence.
Betsy Hale is the President of the Westfield Historical Society.  Last year she gave a talk at the B&S Railroad gathering in Addison, New York about the tanneries along the B&S and WAG railroads.  For this October presentation, she will be focusing only on the tanneries located in Tioga County, Pennsylvania.  The Westfield Historical Society has a vast collection of items from the former Eberle Tannery/Westfield Tannery, some of which Betsy presented at the program in conjunction with Develop Tioga at the demolition of the Westfield tannery buildings in 2019.
Betsy, a native of West Virginia, has lived in PA for over thirty years and has a love of history, serving as President of the Westfield Historical Society for the last six years.  She lives in Westfield with her husband, Michael Hale.  Besides local history, her interests include genealogy, reading, crocheting, quilting and spending time with her grandchildren.
For further information about the presentation or the Gmeiner, contact Carrie at 570-724-1917 or director@gmeinerartculturalcenter.org.