Wellsboro First Friday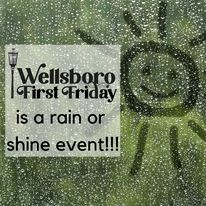 Games, music and activities are centered on Main Street, but extend to the intersection of East and Main and to the Green, which for the first time will host the Wellsboro Fire Department and several arts and crafts activities including Ukrainian egg painting.
Almost 40 businesses and organizations are participating in First Friday, including pet rescues, health organizations, Relay for Life teams and more. New to First Friday this year will be the PA Wilds Astronomy Club, located in the Deane Center.