Hosts group outdoor events such as target shooting competitions and camping retreats. Future plans include an environmental education center, restrooms, campsites, parking facilities, trails, shooting ranges, and canoe & boating facilities.
Address: PO Box 262, Mansfield, PA 16933
Directions: Located near US Rt. 15 between Tioga and Mansfield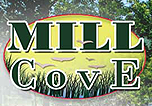 Mill Cove, Inc.
8 S Main St, Rear Unit 1
Mansfield
PA
16933
United States